BigAnt Server User Manual

BigAnt Console

User Manage

System Settings

System Tools

Query and Statistics

App Management
Advanced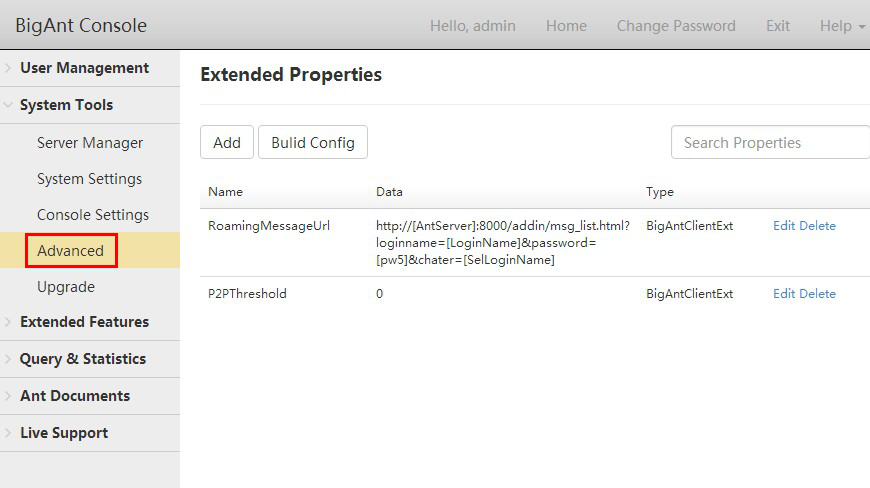 In this dialog, some advanced BigAnt features can be configured here.

Roaming message: all messages sent and received are stored on both server and client, which makes it possible for users to check out their complete message history from different computers. As default the roaming message can be accessed from the URL in this window, please make sure the port is set as default 8000 and is forwarded from your router device. Otherwise users outside LAN can not see roaming messages.
From client, if you want to check roaming message, you need to go to button "message history" and then select the person you were talking to from the organization chart, please note the roaming message is not available for the legacy view of message list.

P2P threshold: this setting is for the client program to determine which file needs to be sent/received via peer to peer connection, if the file is smaller than the threshold the file will be sent via BigAnt message server, which means longer waiting but safer transferring with a file back-up on server side. P2P way doesn't allow your re-download of the file.

Add: the BigAnt client program has an API for the plug-in program, you can manage and configure them from here.The plug-in, such as OA, EDM,ERP system, which requires customization , could be helpful for your business. Most of the plug-in programs can be installed and distributed from server side, and then users can find additional button from BigAnt client, as the portal of the plug-in system. Please contact us for the customization details, email us: info@bigantsoft.com