BigAnt Server User Manual

BigAnt Console

User Manage

System Settings

System Tools

Query and Statistics

App Management
Customize
BigAnt messenger is designed for secure and efficient communication between colleagues, customers or organization users. The version available for download works for most circumstances . What¡¯s more, BigAnt also offers trail version and customization at your service, please find typical ones as following:
For more customization needs, please kindly email us: info@bigantsoft.com
Re-branding: Change icon and logos
With BigAnt, you can use your company name shown on top of BigAnt client window, click here and see how to do this from server side. The program icon and avatar which in the default is like a small ant head can also be changed, which requires customization of this program. You will need to provide your company logo in several different resolution, and might be charged additional fee. Please contact us for details, email: info@bigantsoft.com
Client-Plugin:System tools-->advanced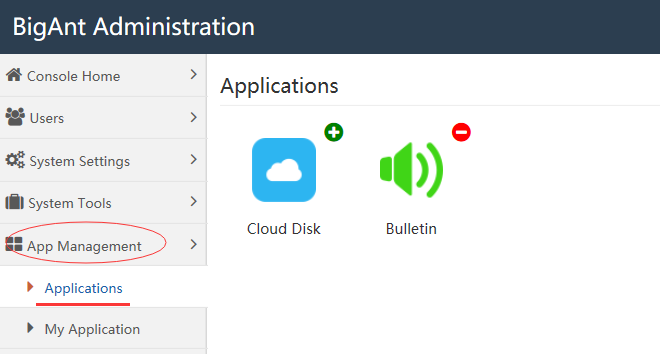 In this dialog, some advanced BigAnt features can be configured here.
P2P threshold: this setting is for the client program to determine which file needs to be sent/received via peer to peer connection, if the file is smaller than the threshold the file will be sent via BigAnt message server, which means longer waiting but safer transferring with a file back-up on server side. P2P way doesn¡¯t allow your re-download of the file.
Add: the BigAnt client program has an API for the plug-in program, you can manage and configure them from here.
The plug-in, such as OA, EDM,ERP system, which requires customization , could be helpful for your business. Most of the plug-in programs can be installed and distributed from server side, and then users can find additional button from BigAnt client, as the portal of the plug-in system. Please contact us for the customization details, email us: info@bigantsoft.com
Sending-SMS:Query&statistics-->SMS statistics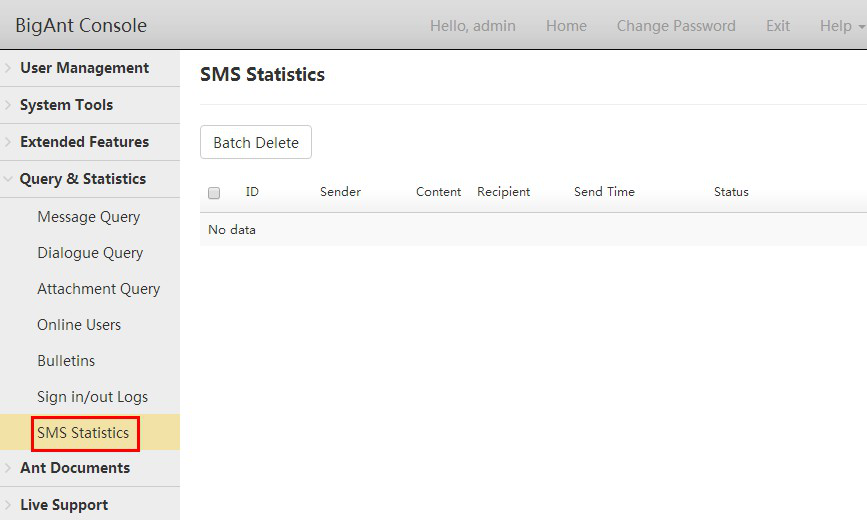 The SMS, short message service, normally provides telecommunications service for companies, and APIs for the third party connection in most cases. It sends messages to mobile phones using SMS, and charges by message quantity.
BigAnt messenger has the capability to connect with SMS API and send mobile messages. However, this will require customization and your local SMS service, also fees that may involved. To save your time and money, please kindly check with your local SMS service provider and then email us for more details, info@bigantsoft.com
Push-to-APP:System setting-->openplatform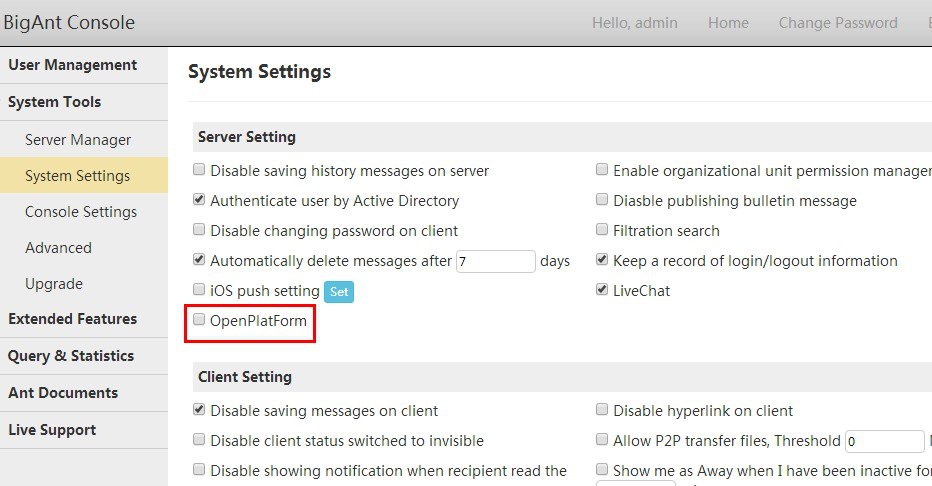 This BigAnt messenger can be considered as an Open Platform for message push, to mobile clients, please check with settings on iOS push setting for iPhone, and OpenPlatForm for Android phones. Since the message push should only influence users in your company, a developer ID and related authority is required to make it work.