BigAnt office messenger is designed for both small business and large company, both LAN messenger and/or WAN messenger via internet or VPN:
System structure: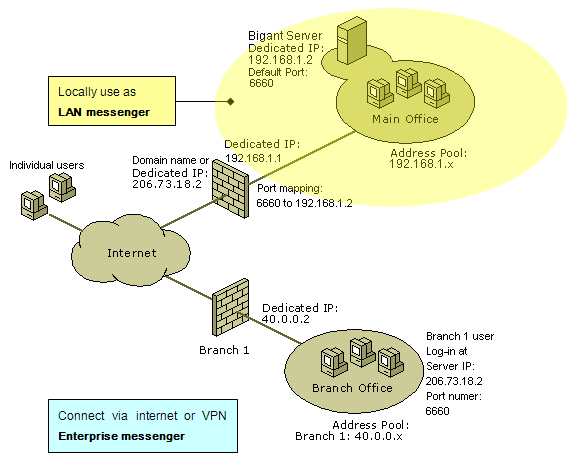 How can I access BigAnt server from Internet?
Advantages of using a central server:
Security and Privacy

The internal messenger server guards against viruses and other network security risks. This creates secure communication network for your group. You can even isolate your local network with internet, and still, not lost connection with colleagues.

Monitor all activity on the server

All IM communications between users are auditable and key word filtering, everything is under control. This protects corporate communications, be more security and stability.

Excellent file transfer capabilities

Extremely fast file transfer undertaken within centralized server. Send offline message, transfer files, folders to offline users come true. Take advantage of the high transfer speed.
System requirements:
Networking bandwidth:
This BigAnt messenger requires very low bandwidth for text chatting, and takes average 5Kb per user for video/voice chat, and more bandwidth required when file transferring, to save bandwidth, you can disable the video/voice chat and file transfer features for particular users, this is in the server console/user management/roles settings.
System requirements for Server machine:
BigAnt server requires Access or SQL server to create its database, and only if you have over 100 on-line users, a full-blown SQL server is required.
Operation system requirements:
NT 4.0 SP4/Windows 2000/XP/2003/vista/2008 All versions supported
Windows 2000/XP/2003/vista/2008 All versions supported
Hardware and software requirements are varies with on-line user volume:
10~100 users:Intel Pentium CPU or above, 2 GB hard disk, 128 MB memory available
100~800 users: SQL server, Dual-core Intel Pentium CPU or above, 20 GB hard disk, 2GB memory available
Over 800 up to 5000 users: SQL Server, Physical dual CPU or above, 200 GB hard disk, 8GB memory available
System requirements for Client computers:
Operation system requirements:
NT/Windows 2000/XP/2003/vista/2008/7 All versions supported
Hardware requirements are varies with on-line user volume:
Intel Pentium CPU or above, 2 GB hard disk, 128 MB memory available