BigAnt for BlackBerry allows you to contact your office and communicate at anytime & anywhere. Try it now and enjoy the smart solution for On-the-go instant messaging.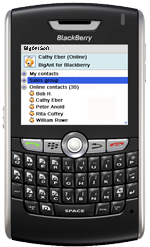 Easy to setup
Download BigAntBlackBerry.exe to your PC, connect PC and BB with an USB lead, launch BlackBerry Desktop manager and load BigAnt. Easy as 1-2-3.
Reliable instant messaging
Instant messaging from BlackBerry to your office in real time, get notified when you have a new incoming message. From BB you can have a clear view of colleague and partner's presentence status (online, offline, away etc.).