BigAnt for Android
On the move? You can still communicate with your team. BigAnt for Android is the best way to use BigAnt on an Android device. You can access all your groups and contacts, and receive push notifications for essential messages.
Download the BigAnt App
Go to BigAnt website download page https://bigantsoft.com/download.html
Download BigAnt for Android
Recent Messages
Quickly find the contact you chatted with or browse recent conversations here.
Go to Message from bottom tab
Tap one contact to open the conversation between you and him/her

Contacts
From Contacts you can find all members in your team, your category, all your groups and discussions. Or just enter a username in search box to locate the person you want to send messages.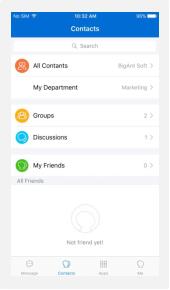 Apps
Cloud disk and Bulletin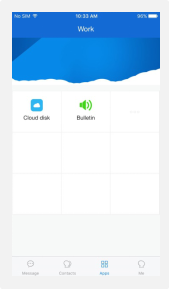 Me